Happy happy Friday everyone! It has been about two weeks since I've done a Five Fandom Friday. I really couldn't pass up this week's prompt! While I do not have any tattoos, I think these five tattoos would be amazing to get (and maybe one day I'll pull together the courage to actually get one--needles are scary!)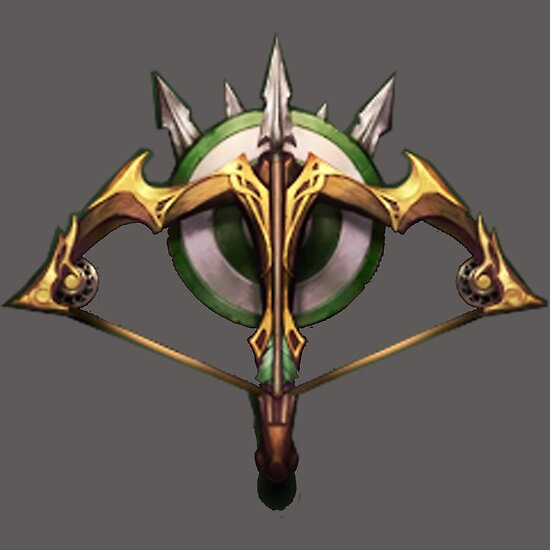 Marksman Emblem
| The first tattoo I'd want to get is the Marksman emblem from League of Legends. During a weekend away with friends at a LAN event (3 days of non-stop gaming, competitions and venders, oh my! :D) my friends and I were talking about how awesome it would be if we all got tattoos one day of the emblem pertaining to the role we play in League of Legends. I am a Marksman and Support main, but pride myself more as a Marksman (mostly because I hate associating myself with the "Only girls play support" stereotype in the game--ANYONE can play support). Plus, how rad would it be to have this sick bow with speared arrows?
"Do Not Find Peace, Find Passion" via Mara Dyer by Michelle Hodkins
| I absolutely LOVE this! I was obsessed with the books when I was in high school and this quote, in itself, is a beautiful reminder to go beyond quick resolutions and strive for the lifestyle embedded within those passions.
The original quote is: "Do not find peace. Find passion. Find something you want to die for more than something you want to live for. If it is your children, then fight not just for your own but for orphans who have no one else. If it is for medicine, then do not just seek out a cure for cancer but search for a cure for AIDS as well. Fight for those who cannot fight for themselves. Speak for them. Scream for them. Live and die for them. You life will not always be a happy one, but it will have meaning."
The Witcher Runes
| I saw this tattoo and thought it was AMAZING! I had a slight obsession with The Witcher 3 when it came out last year. I think this design is beautiful and undoubtedly I would consider getting this if I wasn't so fearful of the pain of needles. How gorgeous is that detailing?!
Adventure Time
| THIS IS ADORABLE! A sleeve tattoo of all of the characters from Adventure Time? How freaking cute is this?!
Zelda Couple Tattoo
| I saw this and literally screamed at my boyfriend on Skype about how we NEED to get this. Or something similar to this! This is absolutely adorable and we both grew up playing games like Zelda and Pokemon on our gameboys as kids.
These are the five geeky tattoos I want to get some day (if I can put together the courage to do so, anyways). I think Tattoos are such a beautiful way of expressing yourself, your interests, your personality, etc. So I have no doubt I'd probably convince myself, one day, to at least get
one
of these.
--
♡ Get $30 CAD OFF your first Airbnb Trip //
http://bit.ly/travelwithjennibearrxo
*Referrals are affiliate links--meaning I will receive small commission every time a product is purchased. You are never obligated to buy anything and my opinion of these products or services are not altered just because I am receiving compensation. I respect my readers and would only share that which I enjoy myself. For more information regarding my disclosure policy >>